Banning straws might be good for the planet – but bad for people with disability or swallowing problems. What is 'eco-ableism'?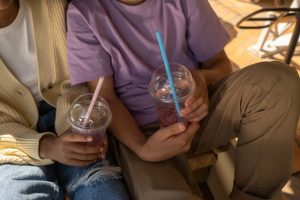 This article originally appeared in The Conversation on the 9th of February, 2023.
Written by Dr Kate Anderson, Associate Head of School, Teaching and Learning (Health, Disability & Inclusion), Deakin University, and Dr Darryl Sellwood, Research Associate, College of Nursing and Health Sciences, Flinders University
This month, Victoria became the latest Australian state to ban single-use plastics, including straws. While this is a win for the environment and marine life, it will come at a price for social inclusion.
Disposable straws enable many people to safely enjoy drinks without prior planning or assistance. Sustainable alternatives to plastic are available, but these options are often unsafe or unusable for consumers with complex medical needs.
And while the new ban makes exceptions for people with medical requirements to purchase plastic straws, these items will no longer be accessible at supermarkets, bars, or restaurants without staff assistance. The ban also lacks measures to guarantee continued availability of plastic straws at these venues for people who need them.
Input from the disability community could help Australia wage an effective war against single-use plastics and combat discrimination in the process.
Who needs plastic straws – and why?
Doing away with straws won't be a big deal for lots of people – but the ban will create new barriers to inclusion for people with disability. Until now, having plastic straws available in public venues has been an affordable and simple accessibility measure.
It's easy to take the act of drinking for granted, but conditions affecting this delicate task have significant risks to health and well-being. For some people, straws can reduce choking risk by encouraging a safer posture or controlling the flow of liquid.
By using a straw, many people with disability are able to avoid spills and drink without help or specialist equipment. Straws can also provide relief from mouth ulcers or injury, and can make medications or supplemental nutrition more palatable.
The strategies used by someone who has difficulty drinking are honed through careful trial and error. While some people have found success with sustainable straw designs, none of these currently match the usefulness or safety benefits of the single-use plastic straw.
Plastic is more durable than paper and cooler than metal, allowing safe, prolonged use with hot or cold liquids. Plastic has a low allergy and sensory profile, and is safer than metal, wood or pasta when bite reflexes are present.
Finally, reusable straws require careful cleaning to avoid food-borne illness. This can make them a risky and impractical choice for people with restricted movement or fatigue to maintain independently. For these reasons, plastic straws remain simple but critical tools for many in the disability community.
Some sources say plastic straws can be put in recycling bins if they are packed together inside a bottle or container made of the same type of material. Check with your local council.
Where does the responsibility lie?
Government material encourages Victorians with disability to carry their own straw to venues, and to seek help in sourcing plastic straws if required.
When a straw is an essential tool for hydration, the weight of this responsibility for individuals is heavy. Forgetting your straw can mean missing out on social drinks, or becoming dehydrated when plans change unexpectedly. And when accessible tools require making a "special request" to venue staff, the risks of stigma and discrimination are high. As disability activist Alice Wong explains, "you never know what attitudes you'll encounter: indifference, pity, or outright rejection".
Discrete and affordable accessibility measures are key to Universal Design. This approach aims to make products and environments usable by all people, to the greatest extent possible, without adaptation.
Such measures are also enshrined in Australia's Disability Discrimination Act. While complying with the straw ban, businesses can honour this principle by:
stocking bendy plastic straws for those who need them
not asking for proof of medical need. This principle also applies to patrons with service animals, mobility devices, and other access requirements
providing and talking about plastic straws in a way that does not stigmatise the people who need them
using simple language and pictures to tell people straws are available. Many people with a swallowing disorder also have difficulty with speech or language, so accessible communication is critical.
An inclusive approach to sustainability
The war on straws, and its outsized impact on people with disability, exemplifies a broader phenomenon known as "eco-ablism".
Eco-ablism arises when environmental policy, design, or campaigns discriminate against people with disability. It's also seen when products like straws, disposable wipes, and pre-cut vegetables are publicly vilified, despite being critical to the health and independence of many consumers.
People with disability are not opposed to sustainability. In fact, a 2021 UK survey revealed 93% of respondents with disability were committed to minimising their environmental impacts in the home. But 17% weren't able to make sustainable consumer choices due to poor accessibility.
The disability community is resourceful and tenacious in the face of adversity. This makes it a powerful ally and design leader in environmental causes. Inclusive environmentalism harnesses this strength, driving sustainable innovation through collaboration and co-design.
Programs such as Sustainability Through an Inclusive Lens (Canada) prove an inclusive approach can deliver powerful wins for the planet and its diverse occupants in tandem. And research consistently shows that inclusive design is good for business too.
Ultimately, for sustainable practice change that protects fundamental human rights, inclusive environmentalism is Australia's best shot.